Filter Silicone Water Bottles is our innovational products in these two years, our designner and enginners revise the deisgn,mould and then
testing again and again, to ensure our filter silcione water bottle have a perfect filtering effect and better water drink experience, finally we
launched our micron aperture & Activated carbon filter silicone water bottle.
Here are the advantages of them:
1.The bottle body is collapsible and easy carry on.
2.The filter system is consists of Ultra filtration membrane with 0.01 micron aperture & Activated carbon filter. It do not contain any toxic
chemical element in it. Reusable and detachable.
3.It could filtered 99.99% bacteria(Coliform) and Protozoa(Giardia, cryptosporidium, etc).
4.It could lower the turbidity of the water, adsorb the bad odor in the water. The tastes will be quite good after filtered by our filter.
5.Maximum 1000 litre of water could be filter by our filter system if the water is NOT very muddy.
6.The filter system only could filter the water that is polluted by natural biological bacteria. Do not drink the water if the water is polluted by chemicals.
We are honored to be trusted by Nike, New Balance, Locknlock, Target, Wal-mart for over 8 years, all of our foldable water bottles are deisgn
and producing by our own factory, we have a experienced R&D team, skilled worker, strict QC team, passional sales team and after service team
that can provide you one stop solution for our order, please contact our sales to start this happy journey.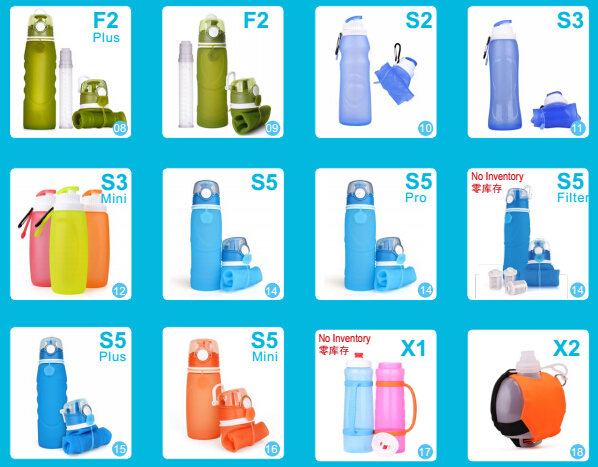 For more: Outdoor Collapsible Silicone Water Bottles, Sport Foldable Silicone Water Bottles, Insulate Silicone Water Bottles, Silicone water bottles